CM Gallery
TV Advertisement
Tenson-Korin
Series Shochu-Shishi (Samurai)
This series is aimed to get more attention for shochu from today's generation. Dynamic story and movement with original Samurai characters and CG animation attracts them.
TV Advertisement TENSONKOURIN ②

About TENSONKOURIN
After sweet potatoes produced in Southern Kyushu are manually-sorted one by one, the low temperature distillation of the raw materials gives us the product with carefully-selected original gorgeous fragrance and flavor. The shochu product provides you with the one-and-only refreshment and delicious taste.
TV Advertisement
Himukano KUROUMA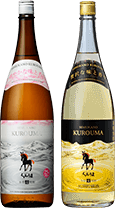 Himukano KUROUMA
The full flavor has been successfully brought out from the carefully selected barley grown in Japan by distilling at a low temperature. It has a luxurious aroma and refreshing taste.